Our Experts Are Ready! Call Us at 937-492-0346
Sollmann Electric Leadership Team
Jeramie Sollmann, P.E.
President
Tom Holthaus
Executive Vice President
Alan Hartke
Vice President of Operations
Cheryl Gallimore
Office Manager
Garrett Homan
Project Manager / Estimator
Dustin Keener
Project Manager / Estimator
Mitchell Sollmann
Project Manager / Estimator
Founder
Sollmann Electric, founded by Dennis Sollmann, has been providing electrical contracting services since 1973. We are a fully bonded and insured electrical contractor located in Sidney, Ohio, servicing the commercial, industrial, institutional, and residential markets in the areas of electrical construction and electrical maintenance.
Services
In addition to electrical contracting services, we design and install fire and security alarm systems, communication systems, phone systems, fiber optics, access control systems, intercoms, sound systems, closed circuit TV systems, and computer network wiring.
We provide energy-efficient lighting/retrofits, solar power systems, and EV (electric vehicle) charging solutions. Sollmann Electric can also provide electrical engineering services though JMS Engineers Ltd.
Service Area
Sollmann Electric provides electrical service within a 50 mile radius of Sidney, Ohio on a regular basis. We contract major electrical projects within a 100 mile radius of Sidney, Ohio.
Skilled Electricians
Our employees are skilled in the electrical trade and are dedicated to giving top quality service.
Professional Staff
Our professional staff can accommodate design/build projects in addition to plans and specification contract work. Our goal is to acquire the highest quality materials at the lowest cost to you.
Sollmann Electric is technically sound, produces top quality work, offers competitive pricing, and is totally dedicated to complete customer satisfaction.
Sollmann Electric Provides Skilled Professional & Knowledgeable Personnel Committed To Customer Satisfaction
Electrical Construction
Design Build Projects
Energy-Efficient Lighting and Retrofits
EV (electric vehicle) Charging Solutions
Solar Power Systems
Industrial Machinery Installations and Maintenance
Distribution Panel Upgrades
Industrial Shutdown Work
Assembly Line Relocation
Industrial Controls
Generators & Transfer Switches
Fiber Optics
Fire and Security Alarm Systems
Access Control Systems
Closed-Circuit Television Systems
Communication Systems
Phone Systems
Intercoms
Sound Systems
Computer Network Wiring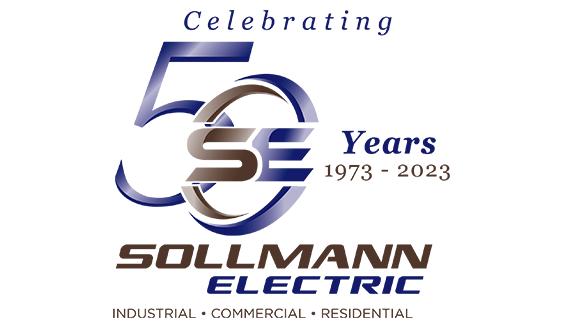 310 E. Russell Rd.
Sidney, OH 45365
937-492-0346
OH LIC 26835
310 E. Russell Rd.
Sidney, OH 45365
OH LIC 26835